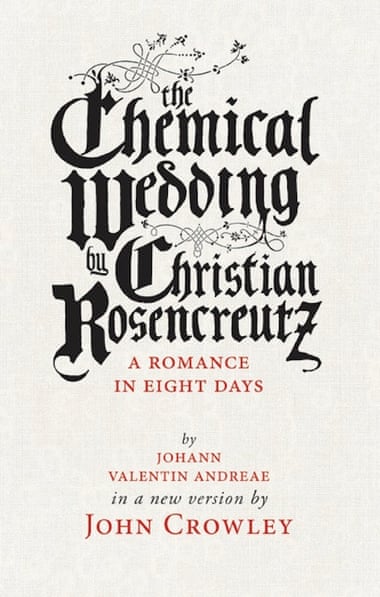 'Published in 1616, The Chemical Wedding predates Johannes Kepler's novel Somnium, which was written in 1608 but not published until 1634 and "which usually gets the nod" as the first science fiction story. But as Crowley writes in his introduction to The Chemical Wedding, Somnium "is more of an illustrated example or thought-experiment than a real story," and while "the astronomy underlying it is new … it doesn't carry the thrill of wild but just-around-the-corner possibilities that SF ought to".
He says that the science of The Chemical Wedding "is late Renaissance alchemy, which had the same fascination for readers of the time as the scientific possibilities of classic SF did in its last-century heyday". Crowley admits that "alchemy is not science if by science we mean only what is now included in that accretion of tested knowledge that still holds up as true even if primitive or inadequate". Nonetheless, he argues, "alchemy is science … in the sense that it had a general picture of the material world and a rational scheme for formulating hypotheses and proceeding with investigations of it".
"So that's why The Chemical Wedding is the first science fiction novel: unlike other contenders, it's fiction; it's about the possibilities of a science; and it's a novel, a marvellous adventure rather than simply a parable or an allegory or a skit or a thought experiment," writes the author, adding that "like SF, it probably appealed to a self-selected readership of geeks and enthusiasts".
Experts in the field were delighted at the news of the book's reissue – but are not entirely convinced by Crowley's claim. "If the modern novel as such is 17th century and is a 'thing', then it cannot qualify as the first SF novel. If, on the other hand, any lengthy tale is a novel, surely Utopia [published in 1516] is the first SF novel," said professor Farah Mendlesohn, a science fiction academic. "But that doesn't mean it's not fascinating."'
[Via]
["BLA and GB Gabbler" (really just a pen name – singular) are the Editor and Narrator behind THE AUTOMATION, vol. 1 of the Circo del Herrero series. They are on facebook, twitter, tumblr, goodreads, and Vulcan's shit list.]