To honor the lists that The Narrator, BLA, is so fond of, we have decided to start an "Epic Catalog" (or, "Catalogue," for those of you with accents who can't read American) tag that will showcase EPIC "lists" of eclectic topics in our usual thematic way — a way that might make you interested not only in the many characteristics of Epic Poetry but in our Epic Prose Poem work THE AUTOMATION (complete with lists!). Here's to Buzzfeed and Epic Poetry for making lists a thing. All credit is due to you, not housewives.*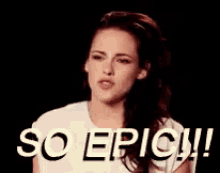 *all lists are subject to updates and expansion, as lists are wont to do.
** See also: A brief history of the To-do List.
["BLA and GB Gabbler" (really just a pen name – singular) are the Editor and Narrator behind THE AUTOMATION, vol. 1 of the Circo del Herrero series. They are on facebook, twitter, tumblr, goodreads, and Vulcan's shit list.]